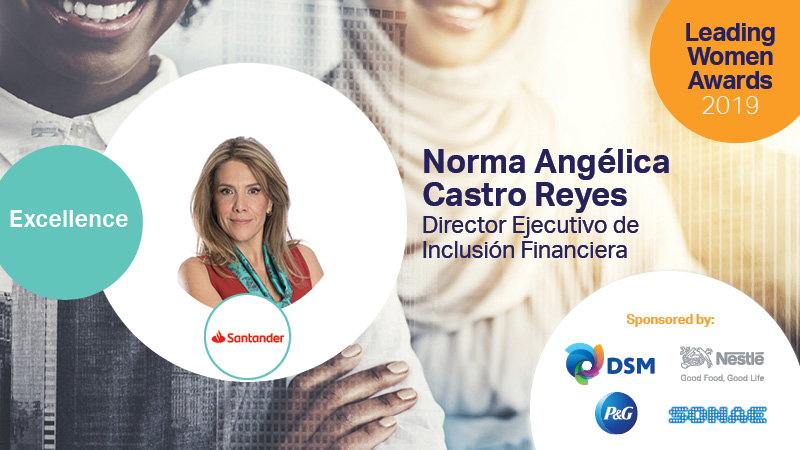 Norma Castro is an inspiring woman driven by the conviction that it is possible to change and impact the lives of thousands of entrepreneur women; her main focus over the last years has been to empower those who are underserved by offering comprehensive financial products and services through the TUIIO initiative. Norma guides this conviction with the notion that financial inclusion and financial empowerment are vital tools which can positively affect the lives of the people with fewer resources; she also understands the challenge it poses to offer these tools in a sustainable and scalable  manner while maintaining the best conditions for the clients.
Therefore, as the leader of the Financial Inclusion Initiative (TUIIO) for Santander Mexico, her goal is to reinvent the traditional micro-finance models within the Mexican financial sector by developing a wide range of financial products and services for the underserved segment by taking advantage of the available technological innovations. Norma has vast experience with financial institutions and regulators; which has given her the opportunity to generate a relevant impact for people. Before taking on the challenge that represents TUIIO, she served as the CEO/General Manager at FINSOL; during her tenure, this institution became the second most important micro-finance product and service provider to thousands of micro-entrepreneurs in Mexico, Brazil and Argentina.
Norma holds a bachelor's degree in Accounting and actively participates and supports projects dealing with the education of children with mothers in vulnerable situations. Norma believes in participating in initiatives that generate a significant and real change in the lives of people, especially those in need; she does so by always keeping in mind how to help the progress of honest and hard-working people.