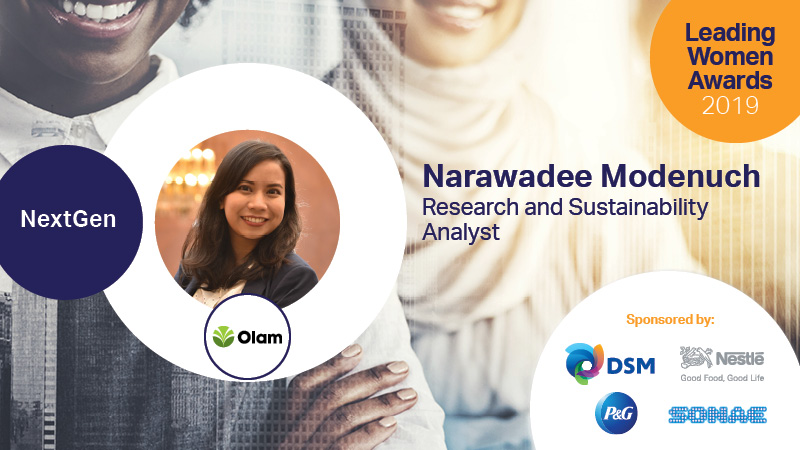 Narawadee has worked as a Research Analyst for Olam since 2014. In this role, she helps Olam Thailand manage risks and improve their business decisions by giving advanced warning regarding supply, demand, trade, and policy environments as it relates to rice. 
She also leads the sustainability effort for Olam to run the world's first and truly unique, large scale Sustainable Rice Program in Thailand. Her efforts paid off and the project developed rice that was delivered to the Royal Family.  The farmer's happiness was noted by the Thai Rice Department and in 2019 the government has collaborated with her to improve livelihood of more than 6,000 smallholder rice farmers in the northeast region of Thailand.
She currently serves as a Material Area Champion of Education and Skills for Olam International to support the organization's purpose of Re-imagining Global Agriculture and Food Systems.
With experience working with international development agencies, smallholder farmers, and stakeholders across the rice value chain to promote sustainable rice, her work was recognized as the best example of Re-imagining Agriculture in Olam Annual Award 2018.
What does receiving the award mean to me?
"Thanks to the World Business Council for Sustainable Development for honoring me as a next-generation woman leader, and as one of the many women who have contributed so much to our sustainability efforts. I feel humbled and honored to receive such a prestigious award as my first professional recognition.
I feel lucky and grateful to be part of Olam International, a company that puts sustainability at the heart of their business, and which gave me the opportunity to get involved and move their projects forward. I'm really proud to have brought smiles to the faces of Thai rice farmers, while supporting Olam's purpose: to "Re-imagine Global Agriculture and Food Systems."
Sustainability is a long-term driver for change, and we need as many people as possible to contribute. I hope my journey can inspire a new generation to take on their own challenges and move forward on sustainability efforts."