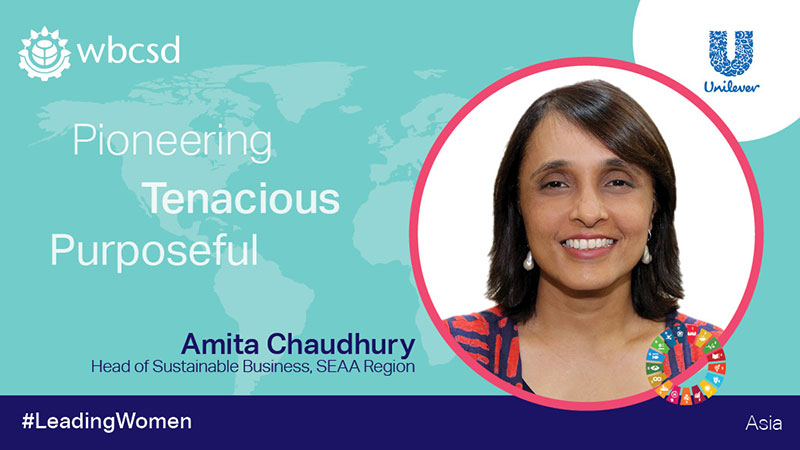 Amita is the Head of Sustainable Business for Unilever SEAA. Amita has distinguished herself as a sustainability leader who is delivering tangible business impact through making a positive difference.
In just two years, through a program of structural and cultural change, she has increased the number of brands on purpose – tackling health, wellbeing and nutrition in SEAA, which impact more than 200 million people. In 2017, these brands grew twice as fast as rest of business. She has also accelerated Unilever's efforts towards a more circular economy through creating a shared ambition of Zero waste to nature for flexibles plastic packaging, mobilizing collection pilots across countries and influencing through advocacy and partnerships.
In her previous role as Global Diversity and Inclusion director for six years, she facilitated the development and execution of Diversity and Inclusion strategy across 100 countries in partnership with the Global Diversity Board chaired by Paul Polman. During her tenure, the company became a well-recognized leader in Gender balance winning over 30 awards across geographies including the Catalyst Award in 2013 for creating an enabling environment in recruitment, retention and development of women in the workplace. She received the highest internal recognition – Unilever Compass award for her work.
She has 18 years of experience in Marketing, Sustainable business and Diversity and inclusion across Singapore, London, HongKong and India. She is author of the book, "Working mothers, Happy kids", an MBA and Mathematics graduate.
"The award is a testament to the opportunities Unilever provides its employees to make a positive contribution to society and drive business as force for good. It inspires me to work harder to influence, inspire change and also empower the next generation of leaders to drive profitable business growth through the power of purpose."